Apart from this, we have launched a website for the landing page of the apps.
Magica Apps: https://en.magicaapps.com
At the moment, there is only one app, but… it also contains information on new apps under development, so please take a look.
Originally, I was planning to make a landing page on this site, but the theme meghna-hugo that I have adopted is only considering adding a blog article as a page, so It's difficult to add landing pages.
I also searched for landing page templates, but I can't find a suitable one. Even if I found one, I thought it would be easier to use the landing page creation service, considering the preparation of graphic materials.
So, I decided to build and operate the app landing site using Wix, a cloud-based CMS service.
As many of you know, Wix is a leading CMS service used by 160 million users worldwide. (Despite having so many users, Wix has only the sixth share in the world. No.1 is a famous WordPress.)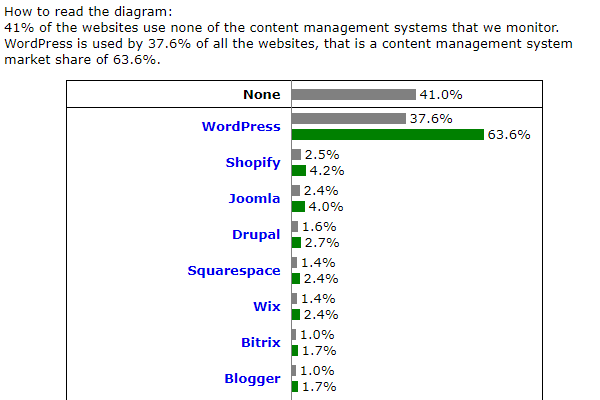 Usage statistics of content management systems, W3Techs.com, 26 June 2020
By the way, my impression on using Wix is ​​that it's easy to create a site. Various templates are prepared, I can also automatically generate a suitable site with an AI-based automatic creation tool (Wix ADI), and above all, it is great that I can edit the page intuitively while watching the actual page layout with WYSWYG. That's not the case with Hugo.
However, pages are slow to display. Compared to the site built on Hugo, it is an impression that pages are displayed one or two beats later. If enable the cache, it will be displayed at a speed comparable to the site built on Hugo when the second and subsequent times.
After all, it's expensive. Although there is a free plan, it can't stand practical because the storage capacity is 500MB and the monthly data transfer amount is 500MB. According to recent statistics, the average size of one page (the size including all the images in the page) is over 2MB. I calculate it with this, it will reach the limit at over 200PV per month.
This will be tough not only for commercial purposes but also for individual hobbies. You should think of the free plan as a trial plan for evaluation in effect.
If you think on a commercial basis, you want at least 10,000PV per month, so you shoud choose a basic plan with a transfer amount of 2GB (about $100 per year) or an advanced plan with an unlimited transfer amount (about $150 per year).
Still, it's a lot cheaper than japanese CMS services. For japanese services, it seems that you can not receive a decent service unless you pay a fee that is 2-3 times higher. But there is an advantage that the Japanese language support is substantial (Wix also supports Japanese, but it may be painful if you do not understand English because there are parts that are not translated into Japanese).